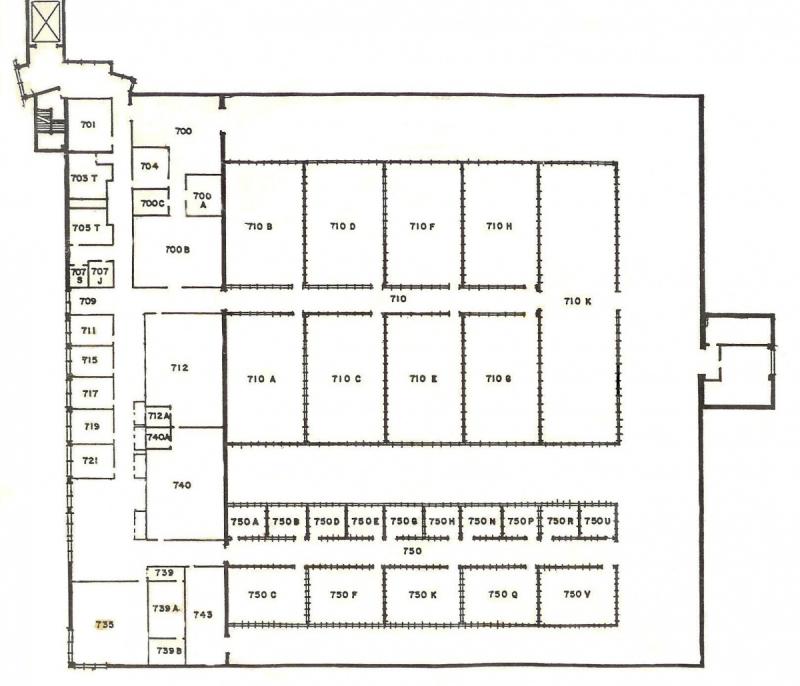 Greenhouse
The Biological Sciences Greenhouse facility is a glass and aluminum structure built in 1993 by Rough Brothers Inc. of Cincinnati, Ohio. The facility covers 15,120 sq. ft. under glass divided into 24 independently controlled rooms. An Argus environmental control system manages environmental conditions and collects environmental data. There are three room sizes: eight large 24' X 40', five medium 24' X 20', ten small 10' X 12'. The tropical house of the Conservatory, 710K on the floorplan above, spans 24' X 96'.
Each space has the following equipment.
Medium and large rooms have rolling aisle benching. Small rooms have fixed aisle benches.
Hot and cold domestic water and pre-proportioned fertilizer water.
Height adjustable HID lighting, minimum 400w metal halides.
Hot water perimeter heat.
Evaporative cooling.
Shade cloth if desired.
Medium and large rooms have horizontal air flow fans.
Sensor unit for control and environmental data collection. Unit includes a PAR light sensor.
Headhouse
In additional to seven faculty, staff and graduate student offices, the headhouse has two research laboratories, an Insectary, a corn sorting and storage room, a cold room, a pesticide storage room and a potting room/prep area.There are six reach-in growth chambers, five BioChambers and one Conviron, situated in the corridor.